The 8th Week of Reading to Kids within the project Visegrad Reads to Kids
---
12. Týden čtení dětem

Dvanáctý ročník Týdne čtení dětem se po dvou letech koná opět v tradičním červnovém termínu, kdy začne slavnostní inaugurací na Den dětí. Oslava literatury a společného čtení bude probíhat od 1. do 7. června.  Ve městech a obcích po celé republice proběhnou desítky akcí, na kterých se bude číst, vyprávět, tvořit, zpívat, hrát a sdílet.
Od 4. května se mohou ZDE registrovat  školy, školky, knihovny a další organizace. 
Slavnostní zahájení se uskuteční ve středu 1. června 2022 na magickém místě. V historickém sále zámku ve Slavkově u Brna. Pozvaní hosté a slavkovští školáci se můžou opět těšit na moderátora Lukáše Hejlíka, herečku Kamilu Janovičovou, kterou všichni známe z pohádky Tajemství staré bambitky. O hudební doprovod se postará hudební skladatel a klavírista Zdeněk Král se svou kapelou U tebe. Z řad spisovatelů tentokrát přijala pozvání paní Alena Mornštajnová, která se společností Celé Česko čte dětem spolupracuje na projektu KAPUCE OD MIKINY, který bude na slavnostním zahájení také představen.
---
11. Týden čtení dětem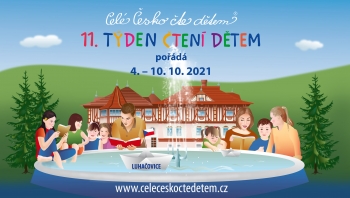 11. Týden čtení dětem v České republice se uskuteční v říjnu.
Začne v pondělí 4. října slavnostní inaugurací v Luhačovicích.
V těchto dnech ladíme program a brzy prozradíme všechny účinkující.
Už se moc těšíme.
---
The 8th Week of Reading to Kids within the project Visegrad Reads to Kids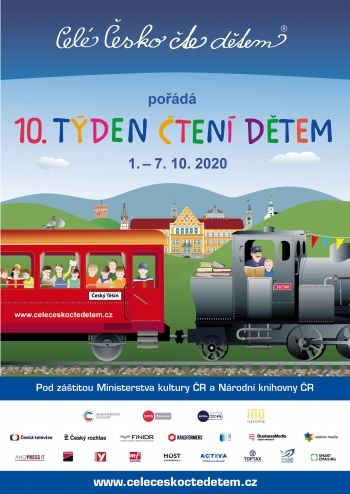 Our aim was to raise awareness about the importance of reading aloud amongst all four Visegrad countries. We wanted to promote reading aloud through campaigns amongst parents and stakeholders (schools, libraries, family centres, etc.). In the framework of the project, we organised and promoted The Week of Reading to Kids within the project Visegrad Reads to Kids which was focused on children and children's literature.
The ceremonial Inauguration was held in Prague on the 28th of May. The 8th Week of Reading to Kids within the project Visegrad Reads to Kids took place from the 4th to the 10th of June 2018.  During this week there were organised events in all four of the participating countries, including: days of reading, intergenerational activities, meetings with writers, as well as little workshops for children and parents. These activities created a base for an international network focused on the idea of reading aloud. All experiences gained during the organisation of the event will be used in our future activities.
The project was co-financed by the Governments of the Czech Republic, Hungary, Poland and Slovakia through Visegrad Grants from the International Visegrad Fund. The mission of the fund is to advance ideas for sustainable regional cooperation in Central Europe.
The official website of the Visegrad Fund: http://visegradfund.org/home/
Main Project objectives:
To motivate parents to read aloud to their kids and introduced them to books.
To raise awareness about children's literature from the V4 countries and about the V4 authors.
To exchange knowhow amongst the experts in the area of education and children's development.
To discuss new methods and approaches in the network of the V4 partners.
To create a network for future cooperation.
Grantee:
Celé Česko čte dětem (Every Czech Reads to Kids)
Partners:
Cała Polska czyta dzieciom ("ABCXXI AII of Poland Reads to Kids" Foundation) www.calapolskaczytadzieciom.pl
Magyar Olvasástársaság (Hungarian Reading Association) www.hunra.hu
Celé Slovensko číta deťom (All of Slovakia Reads to Kids) www.celeslovenskocitadetom.sk
 
Contact details of the project coordinator:
Mgr. Eva Katrušáková, founder and director of Celé Česko čte dětem (Every Czech Reads to Kids)
email: katrusakova@ctemedetem.cz
---