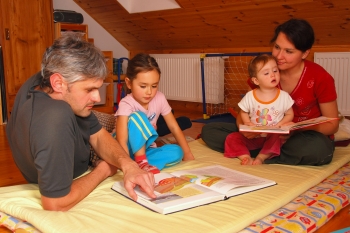 WE ALL WANT OUR CHILDREN TO GROW UP TO BE GOOD, WISE, AND HAPPY PEOPLE.
BUT HOW TO ACHIEVE IT?
READ! READ TO KIDS FOR 20 MINUTES A DAY.EVERY DAY!
NOBODY IS A BORN READER. 
WE HAVE TO SHOW THEM THE WAY. 
Everyone, from the European Commissioner for Education, through the Minister of Education and teachers at schools up to parents, look for a way how to bring children to books. But in fact there is an easy way. It has been proven by various studies that the most effective method of how to make a reader from a young man lies in regular reading aloud. Even the Czech scientific researches show that reading aloud by parents has the biggest influence on whether a child starts to read gladly and by itself. Seventy per cent of children to whom somebody read aloud become regular readers. No one is borne a reader; we have to show them the way of how to become readers. Many foreign books deal with the topic of reading out loud to children. It is generally considered the basic element of intellectual development of a man. In our country, however, it is still perceived as a matter of interest rather than as a serious method of development and education. The shared activity of reading aloud is not only a long-lasting form of intelligent contact with children, but, moreover, provides an excellent and enjoyable educational tool.
The project, Celé Česko čte dětem® (Every Czech Reads to Kids), originated out of the recognition that, as a society, we must reinforce the deep importance of reading aloud to children both in terms of their emotional development as well as forming the habit of reading, and continuing it into their adult lives. 
The authors of this project hope adults will realise that today's world is often complicated and adversarial for children. Hurry and stress, ignorance of children's emotional needs, insufficient time and the often negative influence of television and computer games cause more and more children to suffer from unnecessary emotional disturbances.
Reading aloud in a friendly atmosphere is a reliable and effective manner of displaying how the reading process can become very attractive to children, Habitual practice is the best way to show children their importance, to express our love for them, to gently and gradually develop their language skills, to expand their general knowledge and perception of the world.
We should unquestionably make the minimal investment of twenty minutes a day reading aloud-for and with our children-and let us educate them as discerning readers. 
---