For Parents
---
Dos when reading to kids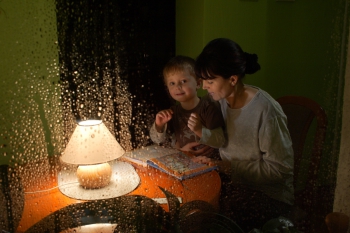 Good advice for parents, grandparents, teachers and all who want to read aloud to children.
⇒   Start reading to children as soon as possible. Use children's poems and songs to stimulate language and listening ability of children.

⇒   Read whenever you and your child have time. 

⇒   Start with picture books with only a few sentences on the page. Picture books are easy to read out loud to a group of children of a very different age.
⇒   When reading a book for the first time, talk to children about the illustration on the cover. Ask, 'What do you think the story is about?' Keep your readers interested by asking them every now and then, 'What do you think will happen next?'

⇒   Persist in reading. If you start reading one book, finish it unless the book is really bad and uninteresting.

⇒   Avoid reading long descriptive passages if a child's imagination and attention spam are not yet developed to such an extent to allow the child to cope with such long passages.
⇒   If the chapters are too long or if you don't have enough time to complete the whole chapter, find a thrilling passage where you can stop your reading.

⇒   Give your listeners a moment to settle down. They should put themselves in the mood for the story, both mentally and physically. If the story is to be continued, start by asking children what happened in the story before when you read it.

⇒  Take some time to discuss the story after reading it either at home or in a classroom. Books evoke thoughts, desires, fears and mediate discoveries.

⇒   Involve the father in reading to a child as soon as possible. A father's early interest in literature can, in a boy's eyes, place books at the same level as sport.

⇒   Use a variety of expressions while reading. Change the tone of your voice to match the dialogue. Lowering the voice at right places of the narrative will promote the listener's curiosity.

⇒   The most common mistake while reading aloud is being too fast (whether it is a seven-year-old or a forty-year-old reader).

⇒   Impatient readers, as well as very active children find it hard to sit quietly and listen for a longer period of time. While listening to a story, they can make use of a piece of paper, chalk and pencil which will keep their hands busy.
⇒   Good advice: have a book with you in case you have to wait for a long time with your child in certain places, such as waiting rooms at the doctors', or during train, bus and car journeys, etc.

⇒   Set an example. Give children a chance to see you enjoying reading in your leisure time. Share with them your enthusiasm for the book you're currently reading.