The Week of Reading to Kids
---
The 5th Week of Reading to Kids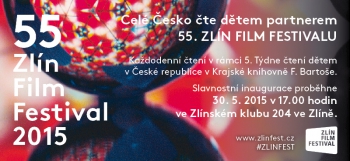 Celé Česko čte dětem (Every Czech Reads to Kids) and the International Film Festival for Children and Youth, ZLÍN FILM FESTIVAL, which is the oldest event of its kind in the world, became partners for the first time in 2015. They were united by the same goal, i.e. to offer children and their parents the opportunity to fully enjoy and share their happy family moments. It was during the 55th ZLÍN FILM FESTIVAL when The 5th Week of Reading to Kids in the Czech Republic was officially launched. The inauguration took part in the Zlín Club 204 on Saturday, 30 May 2015.
The event was accompanied by a staged reading performed by the LiStOVáNí ensemble starring Petra Bučková and Lukáš Hejlík who also hosted the inauguration of the 5th Week of Reading to Kids in the Czech Republic.
Every child who attended the inauguration received a book from the Albatros Publishing House. The inauguration included a charitable collection of children's books, which were subsequently donated to the Charity Home for Mothers and Children in Distress in Zlín.